Inserts a multiple wire bus with automatic connections.
Toolbar:
Wires


Command entry:
AEMULTIBUS
Multiple bus wiring breaks automatically and reconnects to any underlying components in its path. If it crosses existing wiring, wire-crossing gaps insert automatically based on the drawing properties. You define the number of wires.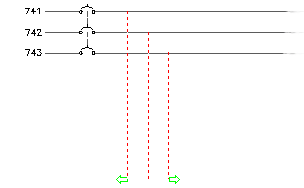 Inserts vertical or horizontal bus wiring. Bus spacing defaults to the default ladder rung spacing for horizontal bus. For a vertical bus, the spacing is the default value defined in the Ladder Defaults section in the Drawing Properties
Drawing Format dialog box.
| | |
| --- | --- |
| Horizontal | Specifies the horizontal spacing between the wires. |
| Vertical | Specifies the vertical spacing between the wires. |