Resequences or updates component tags, wire numbers, cross references, signal references, select drawing properties, ladders, and title blocks.
Toolbar:
Project


Command entry:
AEPROJUPDATE
In one command, modify drawing properties and sheet values, renumber ladders, retag components, redo cross referencing, and update title blocks.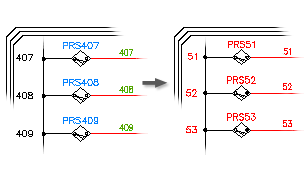 Retag all nonfixed components.
Component Cross-reference Update
Updates the cross-referencing for components on selected drawings.
Wire Number and Signal Tag/Retag
Sets options for wire number retagging.
Click Setup to display the Wire Tagging (project-wide) dialog box. Here you can insert or update wire numbers associated with wire line networks across a project
Renumbers each ladder sequentially.

Resequence Setup

Defines options for starting reference numbers and how to sequence ladders from drawing to drawing.

Renumber Ladders dialog box

Renumbers the ladder for the selected drawings from the active project.

Enter the ladder reference number for the first drawing.

Bump Up or Down

Moves ladder references up if drawings were added to the middle of a project or moves ladder references down if drawings were removed from the project.
Automates resequencing the sheet value on consecutive drawings.

Resequence - Start with

Enter a number to start the resequencing.

Bump-Up/Down by

Select to move the current sheet value up or down by a given count.
Performs a project-wide update of the %D "DWG NAME" parameter of the drawing.
Updates the drawing parameters related to component, cross-reference, and wire tagging modes and format project-wide.
Automates updating title block information for the active drawing or the entire project drawing set.