Show or hide objects, models and model lines. You can hide models of different disciplines, for example, hide architectural models but display MEP models. You can then control the visibility of the model's dependant objects. So using the same example, you might then want to hide duct pipes in the MEP model to gain a clearer view of other objects beneath them. Dependant (or child objects) are listed beneath the parent model in the Models panel.
Toggle Models panel (Hide or Restore)
Model lines
Parent model
Child object
Displayed object
Hidden object
Parent and child objects are also visible in the structure of the Properties panel, displaying details of each element within each object.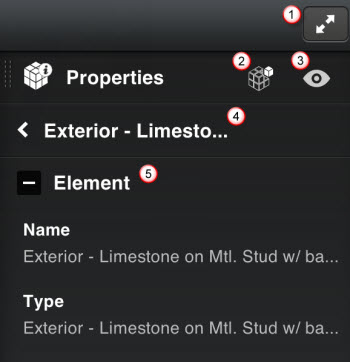 Toggle Properties panel (Hide or Restore)
Isolate
Hide
Parent object. Click the angle brackets to move up and down model hierarchy.
Child element