Table of contents
No headers
Navigation: Maintenance

Data Maintenance

Lookup Tables
Lookup tables are used extensively throughout Constructware, they allow you to determine the contents of the drop-down menus in Constructware.
Examples of Lookup Tables include Project Roles (for example, Engineer, Architect, Contractor), Submittal Responses (for example, Approved, Rejected), RFI Status (for example, Closed, Open, Returned), and Meeting Types (for example, Prebid, Progress). For instance, you could add a project role of Owners Representative to the Project Role Lookup Table.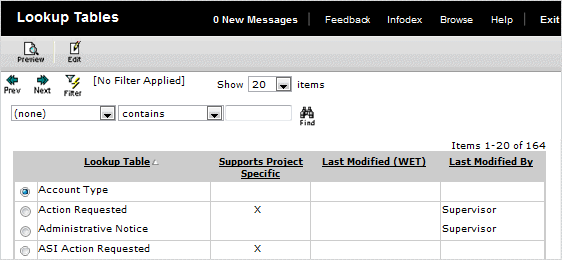 The default view when opening the Lookup Tables module is the Lookup Tables log, which lists the Lookup Table name, whether it supports restricted values, the date last modified, and the user who last modified it. Restricted values are values that are explicitly assigned to a project.
By default, the Lookup Table column sorts the list alphabetically, but you can sort on any of the four columns—ascending or descending.