Navigation: Document Management

Drawing Log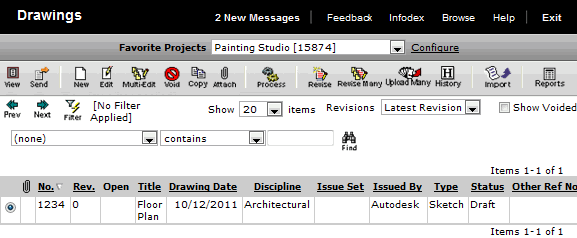 You can think of the Drawing Log in two ways:
To provide a place to log or list all the contract drawings on the project (like an Excel spreadsheet)
To take that list a step further, and back-up those log entries with actual electronic files of the drawings. By using this second feature, all members of the project team can have access to the drawings. A viewer provided by Constructware can markup the data files. This provides a place for the team members to collaborate and illustrate ideas or questions related to the files.
The viewer used in Constructware allows for viewing more than CAD files (You can view and mark up DWG, DWF, DGN). TIFF, Plot, JPEG, and PDF files as noted previously. Prime contractors and general contractors are able to markup drawings, and then attach them to RFIs, Design Reviews or to messages for further clarification. A well-maintained drawing log ensures the team that they are working from the latest version of the project drawings.
The Brava! viewer provided by Constructware allows a user the ability to view CAD files from any computer that is web enabled. Costly CAD packages that are used only for the purpose of viewing files are no longer needed. The viewer provides basic CAD functionality related to zooming, marking up, and printing drawings.
The tools provided in the Drawing Log require you to accept configuration of applets and utilities provided by Constructware. Specifically with the Brava! Viewer and the Upload Many functions, the system prompts the user to accept downloads for these application tools. The downloads must be accepted for the functionality to work.
A previous project can populate the Drawing Log. You can use the Copy button to copy the drawings from any project to any project. Follow the screen prompts to initiate copying. If a dummy project with a generic drawing schedule was set up, the dummy project can serve as a template for population of the log.
See Module Customization for Drawing Log to establish global defaults.