Table of contents
No headers
The Performance Journal module allows an employee to assess or provide feedback for another employee. Users with permission are allowed to see all journal entries, while other users are only able to see entries they entered or have been entered and approved about them.
A Human Resource department will have the highest level of permission, which will allow them to review and approve or reject entries entered about employees. Once the entries have been approved, they are available for viewing by the employee.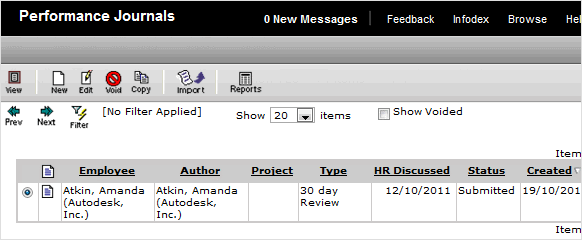 To assess or provide feedback for an employee:
Select the Performance Journal module.
Click New in the toolbar.
Enter the necessary information.
Click Save.
You can also import data into Constructware's Performance Journals module by clicking the Import button on the toolbar.