Navigation: Maintenance

User Maintenance

Profiles
A Profile is a set of permissions that can be assigned to a User Account at once. Profiles make it easy to set up new users quickly by copying a full set of permissions in one step.
Profiles are not associated with the users after the assignment is done. Therefore, changes to a profile do not change the permissions for all users who were originally established using the profile. Many systems with user account management have "groups". Profiles are not groups. Profiles are just a template to perform a one-time assignment of a set of permissions.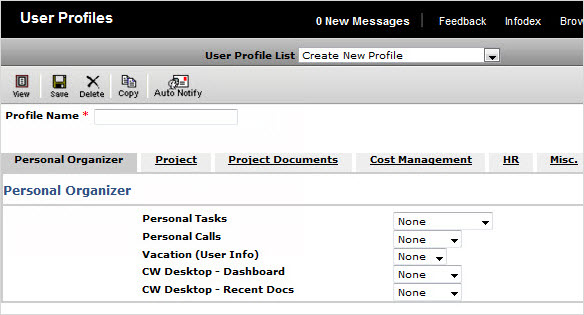 You can create many profiles, for example Administrator, Project Manager, or Architect. As you create new user accounts, you select the proper profile to indicate which initial set of permissions you would like to assign to the user. An individual user's permissions can be modified later.
Any such modifications do not affect the profile used to establish the account. You can re-apply profiles to existing user accounts. In this case, all the user's permissions are set to whatever is contained in the profile at that time.
Previous permission settings are lost. After the Profiles are created, they are used in the user account editing screens. You must log in to Constructware using an account that has been granted User Account Management permissions to access the Profile editing screen.