Use the file browser to import or export files to the UNIX file system. For example, when you load a file from the Import Image menu in the clip library, the file browser appears.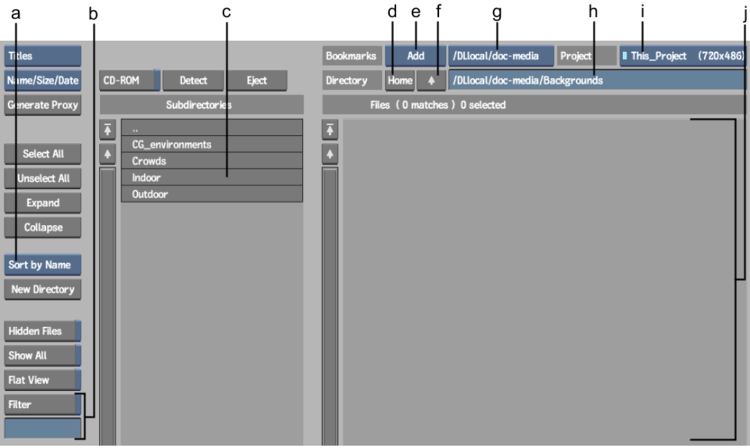 (a) Sort box  (b) Filter tool  (c) Subdirectories list  (d) Return to home project directory  (e) Add/Delete Bookmark  (f) Go to Parent Directory  (g) Bookmarks list  (h) Directory box  (i) Project box  (j) File list  
| Select: | To: |
| --- | --- |
| Sort by Name | Sort files alphabetically by name. |
| Sort by Date | Sort files by their creation (or modification) date. |
You can abort the scanning of a directory by clicking anywhere in the file browser. Files scanned up to the point you abort appear. You have to re-enter the directory if you then want to scan all of its files.
You can create a new directory within the current one by clicking the Create Directory button and entering the new name.
Note
You can opt to have the on-screen keyboard appear when you click the Directory box. Select Keyboard On in the EditDesk Preferences.
(a) Expand arrow  (b) Collapse arrow