At the top, left corner of the application window, the application button provides access to the application menu.
The application button
The application menu enables you to access common tools. Some application menu choices have additional menus that show related commands. Application menu choices include: New, Open, Save, Save As, Security, Print, Send Email, and Close.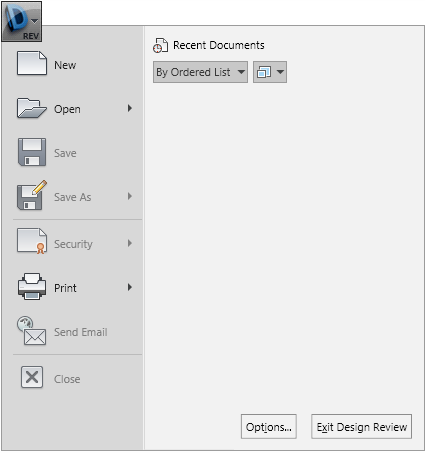 The application menu
In many locations in the Design Review window, you can access context-sensitive tools using the context menu. Depending on the content shown and the location of the mouse pointer when you right-click, the available tools vary.
Sort and Group Files
At the top of the Recent Documents list, use the drop-down list to sort or group files:
By Ordered List
By Access Date
By Size
By Type
To the right of the sort options, you can use the other drop-down list to show Icons, Small Images, Medium Images, or Large Images to the left of files in the list.