Click the Setup button to access the Batch Setup menu to customize rendering, preferences, and adaptive degradation settings.
Rendering Tab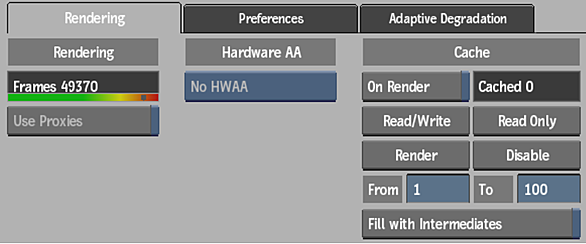 Enable to replace clips with proxies when working in Batch and all associated modules. When enabled, the image window is outlined in amber. See

Adding Clips to the Schematic

.

Select a hardware anti-aliasing sampling level to accelerate edge anti-aliasing with no performance penalty. The graphics hardware automatically renders the image at full speed with approximately the equivalent of up to 32 samples of anti-aliasing (depending on your graphics card and project graphic bit depth). Hardware anti-aliasing also gives anti-aliasing during normal interaction instead of only while rendering.
Preferences Tab

Creates three HTML files called

batch_log.html

,

batch_log_status.html

, and

index.html

, when enabled. These files are located in

/usr/discreet/html

.

The batch_log.html file describes the user, project, and date of the current job.

The batch_log_status.html file is the actual status of the Output or Export node being processed and includes information such as remaining processing time, the frame currently being processed, and the number of frames to process.

The index.html file combines the contents of both the batch_log and the batch_log_status files into a single file.

A message is displayed if an Output node is skipped at process time. This node will be skipped if the host where the output is wired is unreachable or if the library is read-only.

The contents of the HTML file are cleared after each Batch process.

Displays the cue marks and in and out points of either the selected clip, source clip only, or record clip only. Source and record clips must be set for the options in this box to be active. See

Setting Record and Source Clips

.
Adaptive Degradation Tab
Use these settings to temporarily deactivate taxing operations during interactive manipulations on supported nodes. These settings do not affect the final renders. You can activate particular degradation settings for supported Batch nodes (such as Action) in the NodeSetup menu for the node.

Select how to propagate display degradation in the image, according to settings for supported nodes. Nodes in the Batch pipeline respect this degraded image. In this case, press Preview to see your results with full settings on. Press

Ctrl+Shift+D

to toggle Batch degrade propagation on or off.

An icon is displayed at the bottom right corner of the Batch image window when propagation is active. The same icon is also displayed above supported Batch nodes in the schematic that have degradation activated from the NodeSetup menu.