How to add your knowledge
Depth of Field Menu Settings
Blur and Blooming Settings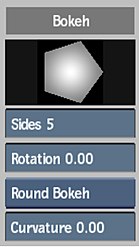 Slices and Edge Artifacts Settings
Z-Depth Settings
Depth-O-Gram Settings
Use the Depth-O-Gram settings to refine focus values.
Depth blur effects control the amount of blur based on a depth of field matte. Depth blur settings are displayed in the Depth-O-Gram tab.
A depth of field map (Z-depth map) can be connected to the node. Black portions of the map are in focus. White portions display the highest level of blur. Note that a Z-depth map imported from another application may use the opposite convention and may need to be inverted.
Modifying Depth of Field Gesturally
Depth blur effects can be modified gesturally by dragging the focus, near offset, and far offset planes in the graphic representation of the depth of field. As you drag these elements, the planes are also displayed in the Result view as a preview of the areas that will be in focus. Use the depth control fields to change the gamma and gain, and to change the focus range while keeping the focus plane constant. These parameters are updated in the depth of field display automatically.
(a) Plot Value Plane (b) Near Focus Offset Plane (c) Focus Offset (d) Focus Plane (e) Far Focus Offset Plane (f) Focus Range 
Bokeh Profile Settings
Use the Bokeh Profile tab to edit the blur kernal pattern.
The kernel is the basic blur shape. The shape of the kernel is determined by its number of sides, its rotation, and the shape of its S-curve. This curve represents the shape of the pattern, from its centre to the outside. The default S-curve defines the softness of the blur. You can change the curve by manipulating the two points that define the curve, or you can add points to the curve. Use the Edit Mode box to add and delete points on the curve.