Table of contents
No headers
Drawing styles control the appearance of drawing annotations. The default styles delivered with Inventor comply with national and international standards such as ANSI, ISO, and GB. You can modify the styles to meet the requirements of your company. For example, if you have a text style that uses a large font, you can use that style to override the appearance of notes.
This drawing was created using the ISO standard. Although most of the annotations follow the standard, some changes are required. In this topic, you create a dimension style that uses a period instead of a comma for the decimal marker.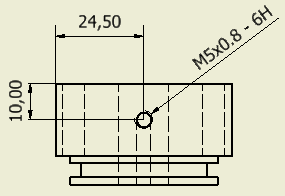 Click the Manage tab Styles and Standards groupStyles Editor. The Style and Standard Editor dialog box displays.

Each drawing contains the style information that controls the display of the annotations. In addition, the drawing can contain styles that are not used. The style library can store all the styles your company uses. To reduce file size, there are more styles in the style library than in a drawing. For example, styles for weldments only are not included in most drawings.

The dialog box has a style tree list on the left side. The tree list has a node for each type of annotation. If you click a node, it expands to display the styles. Some annotations have only one style, while others have several.

Expand the Dimension node in the browser, and select Default (ISO).
To create a dimension style based on the Default (ISO) style, click New...
In the New Local Style dialog box, in Name, enter Modified (ISO). Clear the Add to Standard setting, and click OK.

The new style is added to browser under the Dimension node.

Note: Add to Standard controls whether to include the style in the active standard. You do not use this style in the default standard.

In Decimal Marker, change the setting to . Period, as shown in the following image.

Click Save.

Note: Each style is a separate collection of settings. Save changes before you switch to a different style.