Table of contents
No headers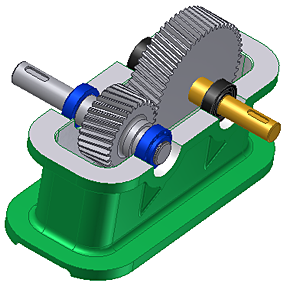 | | |
| --- | --- |
| Category | Mechanical Design |
| Emphasis | 15 - 20 minutes |
| Tutorial File Used | SpurGear.iam (metric) |
Design a spur gears connection using the Design Accelerator Spur Gears Generator. Develop your design in a standards-based, automated fashion that saves extensive assembly and part modeling.
Objectives
Specify placement of gears.
Set the method of design.
Set file names.
Insert the spur gears connection into the assembly.
Prerequisites
Know how to set the active project and navigate the model space with the various view tools.
See the Help topic "Getting Started" for further information.
Navigation Tips
Use Next or Previous at the bottom-left to advance to the next page or return to the previous one.