Consider whether the following Application Options settings are useful for your company.

Of Note:
Files tab: Specify the network locations of the shared design files.
Consider the recommended settings:
General tab: For better viewing, increase the Annotation scale (1.2 to 1.5) to increase the size of sketch dimensions and constraint icons.
Under Selection, disable Enable Prehighlight if users will be dealing with large assemblies or complex parts. Also, adjust Select Other Delay to off.
Assembly tab:
Use last occurrence orientation for component placement = On. Enabling this control increases productivity. For example, if you place an object and then rotate or constrain it, all new instances are placed in the original orientation. This following sequence shows the result of this setting turned ON, rotating the first instance, then placing more copies.

Zoom target for place component with iMate = None or All (default is to zoom to placed component). Change the default setting to None or All so that users are not forced to zoom out every time they place a component.
Display tab: Under Wireframe display mode

Active, turn ON Dim hidden edges.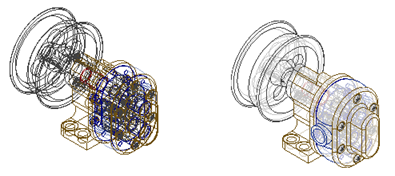 Colors tab:
Set the background color if you want to enforce consistency. Alternately, it can be useful to communicate to your designers to set the background color and line contrast to a color that is easy on their eyes.
Sketch tab:
Set the controls:
Apply driven dimension = On to save time and avoid unnecessary mouse clicks.
Edit dimension when created = On to automatically activate the edit box once the dimension is placed.
Autoproject part origin on sketch create = On to automatically create a point on which you can anchor a sketch to.
Display Grid lines = Off to reduce clutter. Tell the designers they can turn on the control when they need grid lines for alignment purposes (such as in .idw files).
iFeatures tab:
Enable the Use Key 1 as Browser Name column option. This will cause any iFeature that has Key 1 set to display their values in the Browser for easier recognition.
For additional tips on setting Application Options, see: Increase performance and capacity Click the Procedures, and click: Application Options tips.
Save your customized Application Options settings: When you finish configuring the Application Options, use Export to save the current Application Options settings in an .xml file.
You can deliver the .xml file created using the Export command in the Application Options dialog box during deployment using the 'I would like to Import custom settings' option on the installer. This option is available via the Deployment Wizard on the installation media.
Note
The default location of the file is specified in
Program Files\Autodesk\Inventor [version]\Preferences
. Define a different location on the File Tab

Design data.