Table of contents
No headers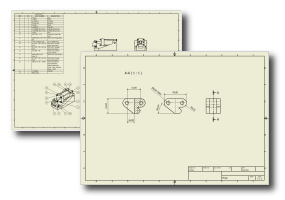 The Autodesk Inventor drawing environment contains a collection of commands – most of which were not discussed in this tutorial. Knowing how to use the fundamental methods to create basic drawings provides you with a foundation to explore the use of these other commands. The basic procedures covered in this tutorial include:
Projected and section view creation
Basic dimensioning
Parts list placement
Balloon placement and editing
Placing basic notes
What Next? Several topics of interest were not covered in this drawing tutorial. The creation of exploded assembly views is the subject of the Presentations tutorial. The creation of custom title blocks is contained in the Custom Title Block Skill Builder. Sheet metal-specific drawing capabilities are discussed in the Sheet Metal Parts and Sheet Metal Parts 2 tutorials. Additional rendering capabilities can be found in the three tutorials that teach the use of Inventor Studio: Studio - Renderings, Studio - Animations, and Studio - Positional Representations.