Table of contents
No headers
Defines the center of the current view of a model, and provides a focal point for the Zoom command and a pivot point for the Orbit command.
To define the center, drag the cursor over the model. In addition to the cursor, a sphere displays. The sphere indicates that the point below the cursor in the model is the center of the current view. When you release the mouse button, the model is centered on the sphere.
If a center point cannot be identified, an alternative icon (a circle with a diagonal line) displays indicating that the operation cannot be performed.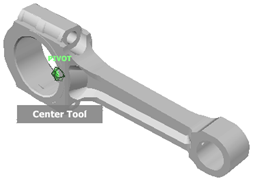 Specify a point on a model as the center of a view
Specify the target point for the Zoom and Orbit tools.
Display one of the Full Navigation wheels or the big View Object wheel.
Click and hold down the Center wedge.
Drag the cursor over the desired location of the model.
Release the button on your pointing device when the sphere displays.