Table of contents
No headers
Some models consist of a single assembly of parts that you can modify to create different variations of the same model. With the Intent solution, you can open a model and use different parameters to create different variations of it.
For example, consider a company that designs spiral staircases, as shown in the following image.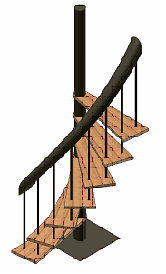 The top-level design contains the child rules that include the necessary parts of the staircase, and the parameter rules for customizing the staircase. When they create an assembly using the solution, the assembly already contains a single staircase. They can modify the parameters to specify the height, diameter, material, and so on, to meet their requirements.