Table of contents
No headers
To create a new Intent model, invoke the "New" command from the Inventor ribbon toolbar:
In the "New File" dialog box activate the Intent tab: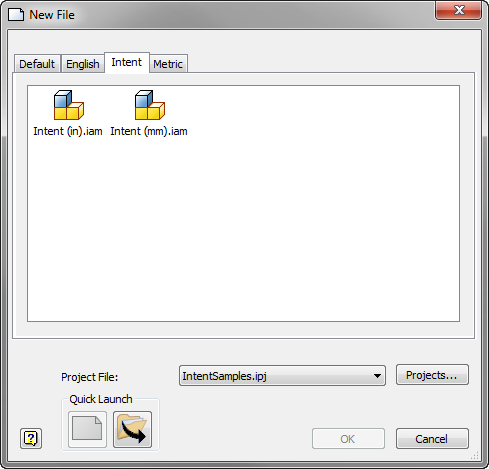 Intent comes with two pre-installed templates (INCHES or MILLIMETERS). These templates differ only in the document's Units of Measurement. The selection of the template does not affect the linear units for the active Inventor project. As one of the templates is selected, the "New Intent Assembly" dialog box appears: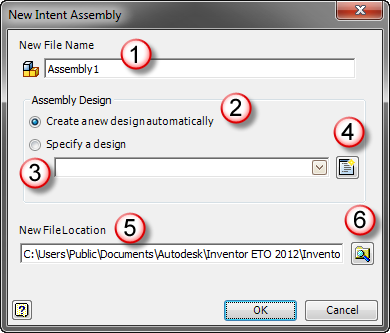 The elements of the dialog box are:
New Assembly Name represents a file name for the newly created assembly. If the file with this name already exists, you will need to confirm you want to overwrite it;
Create a new design automatically A new Root Design matching the file name will be created. However, if Design with this name already exists, then Intent attempts to create another unique name, adding a suffix. For example, if Design Assembly1 already exists, then the following names are probed: Assembly1_1, Assembly1_2, and so on until the first unused name is found;
Specify a design Alternatively, you can select the Assembly Design from a list of existing designs in the project:

Create new design Shows the "Create Design" dialog box, which allows selection of the name, parent Design, and optionally, auxiliary system design for the newly created Root Design:

New File Location directory, where the new file will be saved (default - Inventor Project workspace)
Browse to New File Location shows Save As file dialog box. As the proposed file name is selected, there are possible changes in the dialog box controls.
An empty Intent model is created:
Note
While you can have multiple Inventor models (parts and assemblies) open at the same time, you can only have one Intent Model open at a time. If you create new Intent assembly (or open an assembly with an Intent Model) while an Intent assembly is open, you will see the following dialog: