Table of contents
No headers
AutoCAD supports having multiple documents ("Drawings") open in any given session. Intent supports this in a unique way on AutoCAD: there are two "root" levels in the Intent assembly tree. Some rules only return the user-visible reference chains, while others return the full Intent reference chains. The Model Browser normally only shows the current document.
And the RefChain rule will return the "local" root reference chain:
However, other rules can be seen to have the full, double-root reference chain: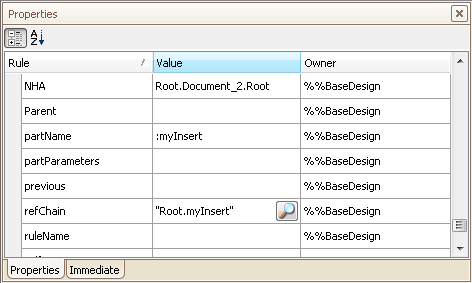 This can work because any reference under the "Document" level will naturally stop at the root.
In general, it is very bad practice to reference above the lower Root. The double-root method is for internal use by Intent only, and the document names are dynamic and cannot be demanded. This feature is only mentioned because it is often seen by developers. Use normal, single-root referencing in your rules, and everything should work correctly.