Table of contents
No headers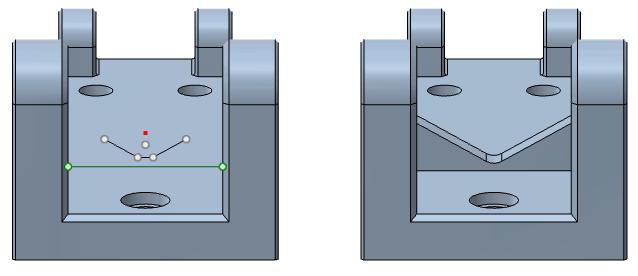 Ribs and webs are features that extend to adjacent faces. The sketch curve can be a series of lines and curves. The ends of the curve are automatically trimmed or extended to the adjacent faces.
Ribs can have a thickness normal to the sketch plane and extend material planar to the sketch.
Ribs can have a thickness planar to the sketch and extend material normal to the sketch plane.
Ribs and webs are often used in molds and castings. In plastic parts, they create rigidity and prevent warping.
On the Extrude drop-down list, click Rib.
Select the sketch curve.
Set the width option.
Use the manipulator to set the width, or enter the value.
Set the depth option:

To Next Extends the curve to the adjacent faces to form a region.
Depth Sets a value for offsetting the curve. The end of the rib cannot extend past the faces. If the depth value is too large, the rib is trimmed back so the end still touches the face.

In Depth Direction, click Flip to change the side of the profile that extends.