Find Features, also called feature recognition, is a process to extract design feature information from a solid model. Currently, Find Features supports:
Fillet
Hole
Chamfer
Extrude
Revolve
Patterns
Mirror
The Find Features command adds features to the browser. The command does not modify the geometry of the body. Features aid in selecting geometry to modify the body. You can perform Find Features on bodies or faces. You can specify the feature types to recognize.
When an Inventor file (IPT, IAM) is opened in Inventor Fusion, Find Feature creates a Fusion feature for each Inventor feature in the model.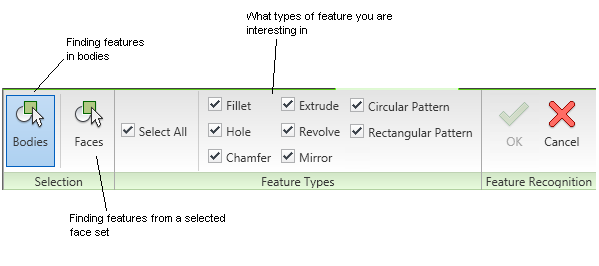 In the following image, Find Features adds an extrude (the rectangular body) and a counter bore hole (the cylindrical cut) to the browser. After a feature is found, it is managed the same as features created with traditional methods. Features can be edited, deleted, or dissolved.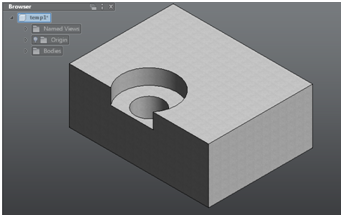 If a downstream operation modifies a feature face, the owning feature is re-evaluated. If the face set does not satisfy the feature definition, the feature is removed from the browser. In the previous counter bore hole example, if you move the highlighted face, the feature is not a valid counter bore hole. It is removed from the browser at the end of the move operation.
If Find Features recognizes a feature in a way that does not fit your intent, you can change it. In the browser, right-click and change the feature type. For example, to recognize a hole as a revolve, you can dissolve the feature, which removes the feature from the browser, but leaves the geometry on the model.