Table of contents
No headers
You can add tags to any face or body, and then use the tags to search and locate particular entities.
These User Tags consist of a tag name and an optional tag value. Inventor Fusion also supports Feature Tags. Feature Tags are predefined properties of features such as Fillet Radius or Hole Dia.
Add User Tag
The Add User Tag command sets the tag name and value for the selected entities. The command is located on the Ribbon.

To assign a user tag, click Add User Tag, and use the dialog box to enter the tag. To expand the dialog box, click

.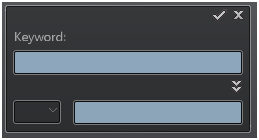 There are two ways to set the tag name and value.
In Keyword, enter the tag name and value separated by a comma.
Expand the dialog box, select the tag name in the drop-down menu, and enter the tag value in the field. To enter a new tag name, select New.
Then select the objects or multiple objects to assign the tag to them.
Click OK

to apply the tag. Click Cancel

to terminate the command without applying the tag.
Search User Tags
You can search user tags and predefined feature tags. In the browser, in Favorites, create, and access searches. To create a search, in the browser, in Favorites, My Favorites, use the context menu and select Search Tags.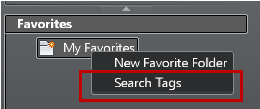 When you create a search, the search dialog box displays. Enter the tag or feature name and value and then click OK to create the search.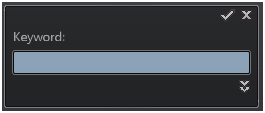 User Tag Search
This command searches tags added using the Add User Tag command.
You can query any keyword (tag name, value). The search result is placed under a new search folder browser node.
Feature Tag Search
This command searches predefined feature tags.
You can enter any feature type to search for all faces of that feature type.
Advanced Tag Search
Click the expand button to display advanced search options.
Set search criteria by defining up to two conditions.
There is a logical operator between the two options.
The tag name drop-down list contains recently used tag names and a predefined list of feature tags names. (Fillet Rad, Hole Dia, Hole Type, Hole Depth, CB Dia, CB Depth, CS Dia, CS Angle, Extrude Dist)
You can set a comparison for tag values (, , =, or !=).
In the browser, the search results node is added to the My Favorites folder. This folder updates when you click or expand the folder node. You cannot create a search folder that is empty, but a search folder where the query once returned values, but now no longer does, is allowed.