Table of contents
No headers
When a sketch plane is activated, a sketch grid is drawn that encompasses all the sketch entities on the plane. The camera updates automatically to look at the sketch plane. If there are no entities on the plane, the grid assumes a default size.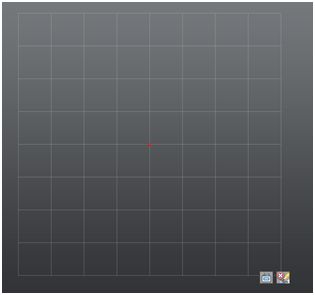 The sketch grid has two icons associated with it:
Look-At If you perform any camera operations that change the orientation of the plane, changes the camera to look at the sketch plane.
Stop Sketch Deactivates the sketch, and reverts to the select mode.
The grid provides precise snap points defined by its spacing. A red rectangle indicates a snap point.
Snap points are available throughout the sketch plane. They are not restricted to the visible Grid.

You can hide the Grid in two ways:
Click the Grid icon at the bottom right of the toolbar.
On the View Tab, in the User Interface drop-down menu, clear the Sketch grid check box.
The snap bar at the bottom-right of the canvas controls the spacing of the sketch grid. If the snap bar is set to 0, the Grid assumes a default spacing value.