Table of contents
No headers

Locks or unlocks a sketch entity. Select the entity, move the mouse over the lock icon, then select Lock/Unlock Geometry. To unlock it, select the icon again.
When an entity is locked, it displays in green. Edges you create are unlocked by default. Projected geometry is locked by default.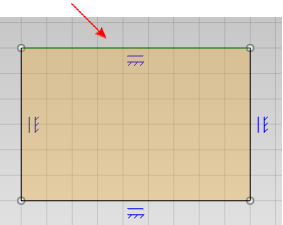 Locking a curve does not automatically lock its endpoints or vertices. In the previous image, the line is locked, but its endpoints are not locked. You can move the endpoints, but you cannot move or rotate the line. This state reduces the edit operations you can perform on the curve and on curves or points connected to it.
Locking geometry does not eliminate any inferred sketch constraints. You cannot edit entities in a way that breaks those constraints.