Autodesk Inventor Fusion and AutoCAD both use DWG files. You can use the Open command in Fusion, to open and modify AutoCAD 3D files, and in AutoCAD, to open and modify Fusion files.
In an AutoCAD session, you can invoke Fusion and modify 3D AutoCAD data without saving and closing the current file. This workflow is available if both Fusion 2012 and AutoCAD 2012 are installed.
To edit 3D AutoCAD geometry using Fusion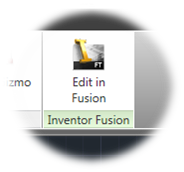 Create 3D bodies in AutoCAD, or open a file that contains 3D bodies.
Select one or more 3D bodies.
On the ribbon, click Edit in Fusion. Fusion launches, and imports the selected bodies.
Make the desired changes to the geometry.
When you finish your changes, click Return to AutoCAD. The modified bodies are saved and replaced in the AutoCAD file.