Table of contents
No headers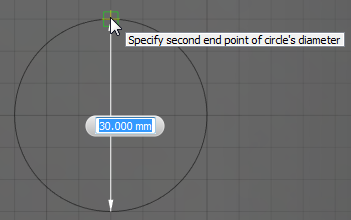 Creates a circle using two user-specified points. The points define the position and the size of the circle.
Expand the Sketch pull-down then click Circle Two Point.
Click in the graphics window to specify the first point of the circle's diameter.
To specify the diameter of the circle:

Click a point in the graphics window.
Enter a value in the diameter field then press <Enter>. Click a point to create the circle.

Click again to begin creating a new circle or right-click then select Cancel to end the command.