Table of contents
No headers
Use the Merge command to combine multiple faces into one surface.
Use Merge to replace multiple faces or surfaces with one surface. Merge is typically used to repair imported models that have extra faces, or to simplify a model for analysis.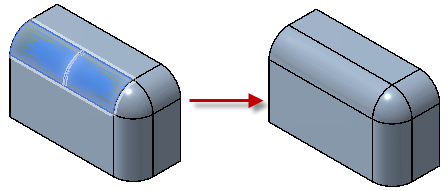 Switch the toolbar workspace to Surface.
Expand the Surface pull-down then select Merge.
Select two or more faces.

Clear the selection for Enable Chaining to prevent automatic selection of all tangent or adjacent faces.

Right-click then click OK.