Table of contents
No headers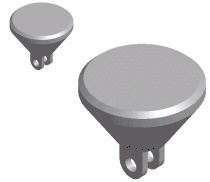 Category
Experienced Users
Time Required
30 minutes
Tutorial File Used
Start a new Excel spreadsheet

nozzle.ipt
Note
Click and read the required Tutorial Files Installation Instructions at
http://www.autodesk.com/inventor-tutorial-data-sets
. Then download the tutorial data sets and the required Tutorial Files Installation Instructions, and install the datasets as instructed.
Create an external table of parameters. Then link it to an existing part file to make the part a parametric table-driven model.
Create a table.
Link a table to an existing part.
Assign parameters to existing dimensions.
Resize the part by changing one value.
Know how to set the work path and navigate the model space with the various view commands.
See the Help topic "Getting Started" for further information.
Use Next or Previous at the bottom-left to advance to the next page or return to the previous one.