Table of contents
No headers
Parameters that control the visibility and graphics of linked Revit models are grouped under their own tab, Revit Links, in the Visibility/Graphics dialog. This dialog is arranged in a tree structure with the parent nodes referring to separate files (the primary linked model), and the child nodes referring to instances (copies) of the model in the project. Changing the parent node affects all instances, while changing a child node affects only that instance.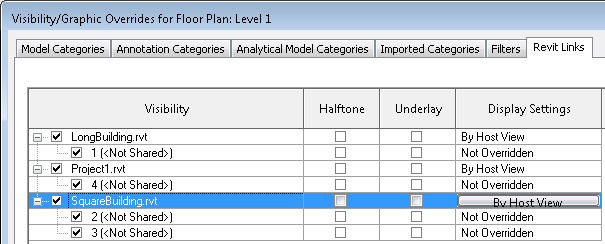 The Revit Links tab in the Visibility/Graphics dialog contains the following columns:
Visibility: Select the check box to show the linked model in the view, or clear the check box to hide the linked model.
Halftone: Select the check box to draw the linked model in halftone. (See Halftone/Underlay.)
Underlay: Select the check box to display the linked model as an underlay in the project. The geometry will display in halftone and will not obscure new lines and edges you draw in the project. (To control the line weight and pattern of the underlay geometry, see Halftone/Underlay.)
Display Settings: Options to override additional settings for each linked model in the current host view. The button displays the current display setting state (By Host View, By Linked View, or Custom). See Using View Filters for Linked Models.
Visibility for linked Revit models is controlled by view. You can use a view template to save the visibility settings of a particular view and then apply it to other views. See View Templates.