Table of contents
No headers
You can specify that lines and components near a wall move a corresponding distance whenever that wall is moved. To do this, use the Moves with Nearby Elements option.
Select one or more components.
On the Properties palette, select Moves With Nearby Elements.
Now when you move the wall that the component is linked to, the component also moves, maintaining its distance from the wall.
The following restrictions apply to the Move With Nearby Elements option:
Only straight lines that are parallel to a wall are affected by this option. It is not available for detail lines, sketch-based elements, and families.
For arc lines, the radius remains at a constant offset from the arc wall, even if the radius of the wall changes. For example, if you change a wall radius from 40 to 30 meters, a 20-meter arc line radius updates to 10 meters, maintaining the 20-meter offset.
If you copy a line or component that is set to move with nearby elements, the copy also moves with the element.
If you move the line or component toward another element, it then moves with that new element. For example, suppose that a straight line moves with a wall. When you move the line closer to another straight wall with which it is parallel, the line now moves with the new wall. However, if you place a wall closer to the line or component, it does not move with that new wall. It retains its movement with the first wall.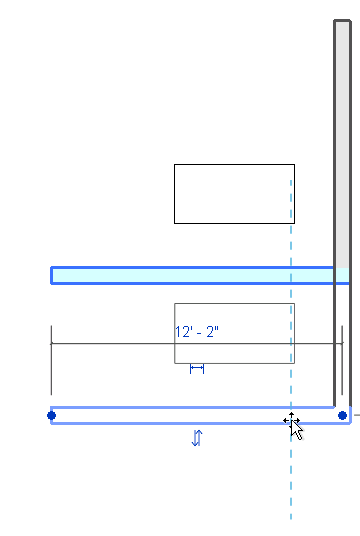 Using the Moves with Nearby Elements option