Table of contents
No headers
Use the top and bottom of columns as an analytical adjustment source when using the Analytical Adjust tool. Notice in the following illustration that the column analytical model doesn't meet the endpoint of the beam analytical model as expected.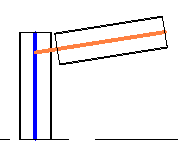 To resolve this, do the following.
Click Analyze tabAnalytical Model Tools panel Analytical Adjust.
Place the cursor over the column and click the filled circle at the end of the column analytical model requiring adjustment to choose the source analytical model.

Drag the analytical node of the column to snap to the analytical node of the beam.
Using this same process, you can resolve issues with projections to continuous beams as in the following sloped example.
Similarly you can alternate between plan and elevation views to manually correct analytical connections.