The Slab Cantilever property allows the sketch of the structural floor both to be constrained to its supports and its edge to be extended beyond them. Cantilevers are applied to structural floors, either before or after sketching the structural floor.
Cantilevers are created by adjusting 2 offset parameters that represent the concrete and steel deck of a structural floor.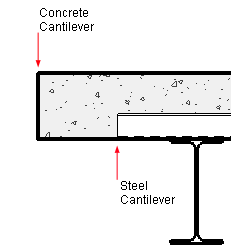 In composite concrete and metal decks, the steel cantilever parameter will always be the lesser of the 2 offsets. In the event that the structural floor is all concrete or metal, the appropriate offsets should be set.