Table of contents
No headers
Revit LT controls the appearance of structural concrete components that are in a hidden state in a view. The appearance of invisible lines of walls, floors, framing, columns, and foundation elements are controlled by the following view parameters:
Discipline must be set to Structural to represent invisible lines as hidden.
Visual style must be set to either Hidden or to Shaded (select Show Edges on the Graphic Display Options dialog) to represent invisible lines as hidden.
Note
To set the desired hidden line pattern, click Manage tab
Settings panel
Additional Settings drop-down
Line Patterns. See
Line Patterns
.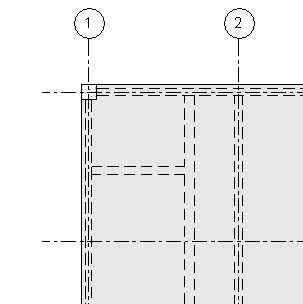 Structural floor and beams framed into concrete walls
Note that the on-screen display of hidden lines may not precisely match vector output. Some edges of wall ends will not show as hidden and all edges of a slab edge will show as hidden in a plan view if obstructed by the slab.