You can place aligned dimensions between 2 or more parallel references or 2 or more points, such as wall ends.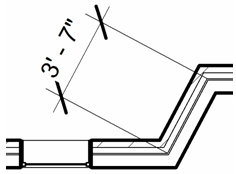 Autodesk Video: Add Dimensions (Getting Started, Part 11)
Click Annotate tabDimension panel (Aligned).

Options are Wall centerlines, Wall faces, Center of core, and Faces of core. For example, if you select wall centerlines, the cursor first snaps to the centerline of a wall when you place it over the wall.

On the Options Bar, for Pick, select Individual References.
Place the cursor at a reference point on an element, such as a wall.

The reference point highlights if you can place the dimension there.

Click to specify the reference.
Place the cursor on the desired location of the next reference point, and click.

As you move the cursor, a dimension line displays. You can continue to select multiple references, if desired.