Autodesk Simulation CFD contains powerful tools for automatically determining the mesh distribution based on the geometry. But in the interest of flexibility, the mesh distribution can also be manually defined. This topic describes the strategy and techniques for manually assigning mesh sizes.
Fundamental Guidelines of Manual Mesh Sizing
Leaning how to create a "good" mesh definition can sometimes be the most intimidating part of the analysis process. It does not need to be. There are two fundamental rules that should always be considered when defining the mesh on any model:
The first rule is that the geometric shapes must be adequately defined.
It is very important that the mesh sizes that you define on a model be such that none of the geometric features are mis-represented. An example is the mesh definition on a round tube. Too few elements (too large an element size) and that round tube will be approximated as a square duct: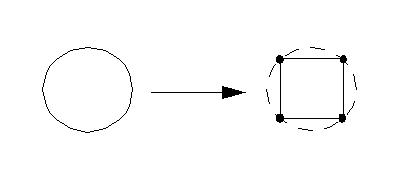 The second rule is that elements need to be concentrated where flow gradients occur.
Elements need to be concentrated where there is a lot of fluid movement. The mesh can be coarser where there is little fluid activity (all the fluid moving in one direction, for example).