Particle Traces are conceptually similar to an injected dye stream in the flow. They are a very powerful way to visualize flow movement.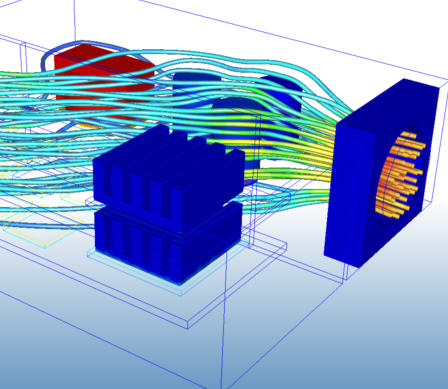 By default, particle traces do not have mass, so their movement is only influenced by the flow. To cause traces to behave more like a physical substance within a flow system, enable Mass.
Control the size of the trace with the Width setting. Increasing the width for cylinders, spheres, and points, makes the diameter bigger. Increasing the width for lines makes them appear as ribbons.
Control the length of the trace with the Max Steps setting. The default of 5000 is adequate for most traces. Increase this value for very finely meshed models if traces stop mid-way through the model.
Toggle the display of the result on the trace with the Show Result control.
To start the animation click Start. Click Pause to stop.
To "grow" traces as the animation occurs, check Incremental.
To restore traces to their original, state click Reset.
Vary the speed of the animation with the Speed control.
To delete individual particle traces, select the trace from the list, and click Delete.
To delete a group of traces, select the group name and click Delete.
Delete all traces by clicking Delete All.
If a trace animates very slowly, it may pass through a stagnation region. Sort by residence time, click the trace with the highest residence time, and click the Delete button.
The time that a trace takes to traverse through the model is its residence time, and is listed for each trace. Residence time can vary based on the flow, the geometry, and if the particle has mass.
A trace with a relatively longer residence time than the rest will affect animation. Such a trace will animate very slowly followed by a very rapid animation of the others.
An example showing the use of Particle Traces