Previous: Exercise | Next: Chapter 8
Use the Geometry branch to perform these three primary functions:
Set the analysis length units.
Specify the coordinate system for 2D models.
Access the Geometry tools.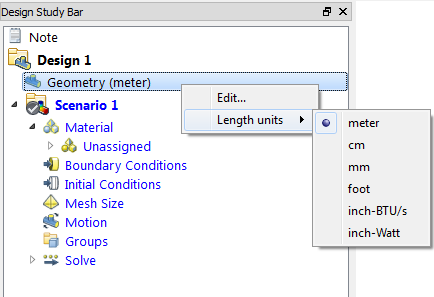 Geometry settings made to a design apply to all scenarios within a design.
To set the units for the Design, select Length Units
To set the coordinate system for 2D models
Geometry Tools allow for the modification and creation of geometry in the Autodesk Simulation CFD interface. Tools like Edge Merging and Small Object Removal enable you to reduce the complexity of certain geometric features and therefore increase the speed of your analysis. Void Fill Creation and External Volume Creation provide the ability to create flow geometry inside the design study, separate from the original CAD geometry.
To access the Geometry Tools, click Setup > Setup Tasks > Geometry Tools. Alternatively, right click on the Geometry branch of the Design Study bar, and click Edit...
To join edges that meet at a common vertex below a specified inflection angle, use Edge Merging
To remove small surfaces and edges that are too small to be seen, use Small Object Removal
To create an internal flow volume within the physical solids, use Void Fill
To create a part for the surrounding flow, use External Volume Creation
In Exercise 1, we closed the Geometry Tools dialog, even though messages advised that several edges could be merged and that using Geometry Tools would be helpful.
After examining the model, it was clear that most of those edges are on external surfaces of the car. Because the intent is to study the flow inside the cabin, Geometry tools would not improve the analysis performance.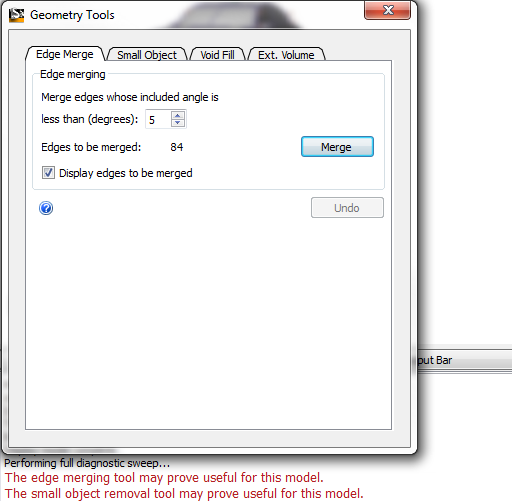 Keep in mind that the Geometry Tools are optional. You may choose to use the tools in your CAD system to merge edges, eliminate small objects, and create internal or external flow volumes. There are advantages and disadvantages to both.
Using Geometry Tools in Autodesk Simulation CFD provides an easy way to modify your model and create flow volumes without adding or removing geometry from the CAD model. However, making changes in the CAD model provides greater control of the features that are added or removed.
Previous: Exercise | Next: Chapter 8