Table of contents
No headers
A fan circulates air contained within the enclosure. Because it cannot enter or leave, it is essential that circulating air efficiently removes heat from critical components, and transfers heat to the casing. Conduction paths between critical devices and the casing are also very important for effective cooling.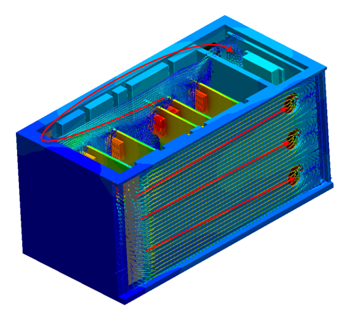 Telecommunications devices
Control modules
Devices in harsh environments
Heat transfer boundary conditions should always be applied if the objective is to learn the temperature distribution. (These can be omitted if the objective is to assess only the flow.) A temperature must be assigned somewhere on the model. Because there is not an inlet on a sealed device, assign a temperature using one of the following methods:
Temperature boundary condition on an exterior surface
Apply a Total Heat Generation boundary condition on components that dissipate heat. Note that power is evenly dissipated over the entire volume.
To simulate heat transfer to the surroundings, apply a Film Coefficient boundary condition to the external surfaces. The value depends on the air that surrounds the physical device:

If the air is still, use a value of 5 W/m²K.
If the air is moving, use a value of 20 W/m²K.
Use a Reference Temperature = ambient temperature.