Table of contents
No headers
Components within a sealed, passive device are cooled by natural convection, conduction, and radiation. Temperature variations in the air cause density gradients, which in turn cause the air to move. Air cannot leave the device, so all heat transfer occurs through the casing. The air movement, conduction, and radiation transfer heat from heated components to the surrounding environment.
Flow in a passively cooled, sealed device is often laminar, and radiation plays an important part in removing heat.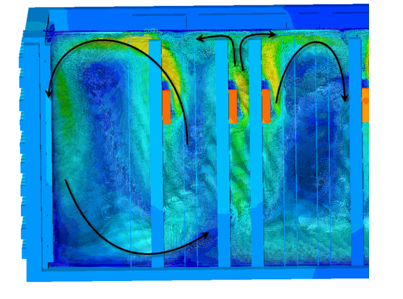 Automotive:

Under-dash electronics
Instrument Panel electronics
Under-hood components
Hybrid system electronics

Military applications
Simplify the geometry to remove extraneous features. Simplify or rebuild sheet metal parts to remove detail that is not relevant to the simulation.
The model must contain an air volume within the device. This is a consideration because the physical model probably does not contain one. Autodesk Simulation CFD automatically creates an internal volume if the geometric model is "water tight." If not, modify the CAD model to close any gaps or use the Void Fill tool to create the volume on the Autodesk Simulation CFD model.
Be sure to include the external casing of the device.
Apply a Total heat generation boundary condition to components that dissipate heat.
To simulate heat transfer to the surroundings, apply a Film Coefficient boundary condition to the external surfaces. The value depends on the air that surrounds the physical device:

If the air is still, use a value of 5 W/m²K.
If the air is moving, use a value of 20 W/m²K.
Use a Reference Temperature = ambient temperature.