Table of contents
No headers
Centrifugal pumps and axial fans operate by converting mechanical energy from a motor into energy of a moving fluid. In a centrifugal pump, flow enters axially, is rotated through an impeller, and discharged radially after passing through a volute. The purpose of most centrifugal pumps is to increase the pressure of a liquid or cause it to flow through one or more pipes.
In an axial fan, air is accelerated as it passes through a rotating impeller composed of several blades. The purpose of most axial fans is to increase the air velocity, often for ventilation purposes.
Most pump and fan applications focus on determining the operating point for a given condition:
Determine the run-out flow rate (at 0 head loss)
Determine the flow rate for a given head loss
Determine the head for a given flow rate
Determine the head-capacity curve (performance characteristic)
Another objective is to determine the source of inefficiencies in the flow. These may be due to recirculation areas within the suction side of the blade passage or a jet-wake pattern near the impeller outlet.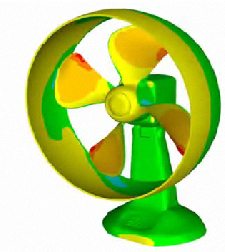 Water pumps
Cooling fans (axial flow)
Cooling fans (radial flow)
The typical model configuration for axial fan models consists of the impeller surrounded by a cylidrically-shaped rotating region. Extensions are added to the inlet and outlet, and extend 3-4 hydraulic diameters from the rotating region:
The outlet condition is determined by the objective of the analysis:

To determine the run-out flow rate: Specify Pressure = 0 at the discharge.
To determine the flow rate at a given head: Specify a transient pressure condition at the discharge. Use a piecewise linear distribution to vary the pressure from 0 to the target value over 100 time steps.
To determine the head at a given flow rate: Specify a transient volume flow rate at the discharge. Use a piecewise linear distribution to vary the flow rate from 0 to the target over 100 time steps. To assign the flow direction out of the model, specify negative flow values in the table.
Time Step Size and Number of Time Steps to Run
To compute a head-capacity characteristic curve:

Set up and run one operating point.
Clone the scenario, and change either the outlet flow rate or pressure rise. Run...
Repeat step 2 for the remaining operating points.
Create a cut plane at the outlet, and make it a summary plane.
On the Decision Center, right click on the Summary Plane branch, and click Update critical values.
In the Output bar, make sure the Summary Plane tab is showing. Click the Save button.
The data is saved in a "csv" file. Open in Excel, and plot the Pressure and Flow Rate for all the scenarios.
Avoid direct application of non-zero pressure or flow rate at the discharge. Gradually increase the exit condition as the rotational speed ramps up. Failure to do this will result in flow going the wrong way through the pump.