Setting dimensions
A part drawing will often indicate tolerances for certain dimensions of the part. By critical dimensions we mean those dimensions where the part specifications demand that the indicated tolerances be met. Critical dimensions, and the specific tolerances associated with them, can be defined in Autodesk Simulation Moldflow Insight using the Set critical dimensions tool in the Analysis menu. As each critical dimension is defined, it is displayed as a double ended arrow on the part model.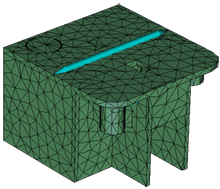 If one of more critical dimensions have been identified, then the Shrink analysis will verify whether these critical dimensions can be met given the calculated recommended % shrinkage allowance for the part as a whole. This information is displayed in the analysis log. You can use this information to compare the part dimensions with the mold dimensions required to produce a finished part within tolerance.
The following picture illustrates how critical dimensions might be defined for a box-shaped part.