It is a measure of the overall level of shrinkage in the element.
A
= Area after shrinkage,
B
= Material orientation direction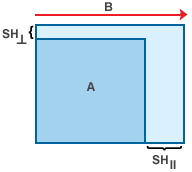 Isotropic shrinkage
This result uses shrinkage computed at each element before warpage is calculated, therefore these shrinkage values represent the tendency to shrink at each element before the structural influence of the surrounding part is considered.
Using this result
The overall magnitude of the shrinkage values will depend on the particular material used. Variations in isotropic shrinkage within the part indicate that warpage may occur due to differential shrinkage.
You may want to consider ways to reduce warpage due to differential shrinkage in your part.