Table of contents
No headers
The Project panel displays information about the model that is being analyzed.
Ensure the study used in the previous task is open. Alternatively, open tutorial_model from the Getting Started project you created in the Importing a model tutorial.
The Project panel is located in the upper left of the user interface.
If this panel is not displayed, it can be accessed by clicking

(View tab
Windows panel
User Interface) and checking Project and Study Tasks.
At the top of this panel are two tabs, the Tasks tab and the Tools tab.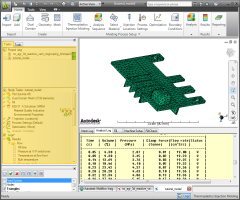 There are two sections to the Tasks tab
The Project View pane is the upper section of the Tasks tab. This is where the studies in the current project are listed. The icons to the right of the study name are analysis icons and these will be discussed in a later tutorial.

The pane you are displaying shows that the current project is Getting Started and the only study currently available is tutorial_model (the study you originally imported).
From the

Results

section of the

Study Tasks

pane, tick

Fill Time

for a visual representation of the time required to fill the mold.
The Tools tab is the second tab of the Project panel.
Models usually require some manipulation of geometry or definition of features prior to analysis. The modeling dialogs open in the Tools tab.