There are several ways to alter orientation effects.
The three main ways to influence orientation (apart from choice of material) are to change:
Orientation is caused by the combined effects of material shearing and freezing.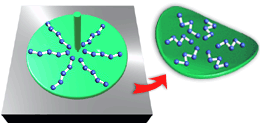 Change molding conditions
It may be possible to reduce orientation by changing the molding conditions (mold temperature, melt temperature, injection speed, etc). In contrast to the other two items above, this remedy does not require changes to the model or the mold so is the least expensive of the options to try.
Change gate locations
If molding conditions cannot be used to reduce orientation effects sufficiently, you must decide whether to change the gate type or location, or alter the model thickness. (Note that changing a gate location will not alter the design specifications of the part and may be an easier option to try on models with complex geometry and thickness variations.). Other changes to the gate, apart from simply changing its location, may include using an end gating, fan gate (only available in Autodesk Simulation Moldflow Insight) or multiple gates. All of these may be done without significantly altering the geometry of simple parts (assuming the mold has not already been cut!). Once you have decided on an alternative gate location (or type) you can re-analyze the modified model. This can be an iterative process, until the orientation level is acceptable.