Air traps occur when converging flow fronts surround and trap a bubble of air.
The trapped air can cause incomplete filling and packing, and will often cause a surface blemish in the final part. Air trapped in pockets may compress, heat up and cause burn marks.
Causes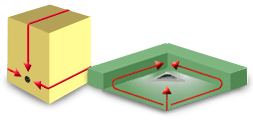 Remedies
Solving one problem can often introduce other problems to the injection molding process. Each option hence requires consideration of all relevant aspects of the mold design specification.