In the Material Editor, you can review and edit the properties of a material.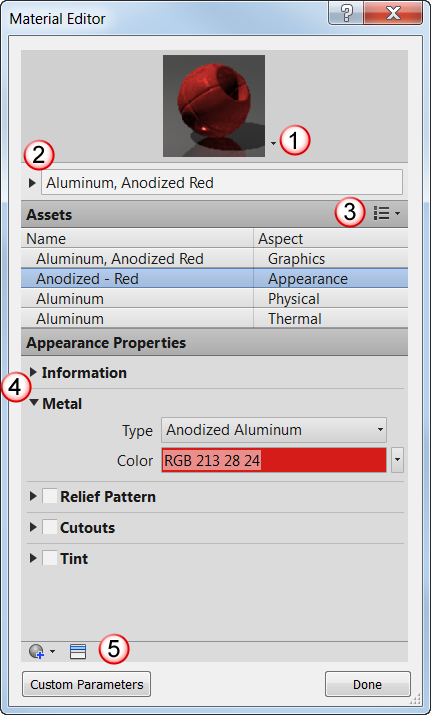 Material Editor
| Region | Function |
| --- | --- |
| 1 | Thumbnail options menu: When an Appearance asset is selected, provides different ways to display the material appearance. |
| 2 | Information panel: Displays detailed product information, such as manufacturer and cost. |
| 3 | Asset menu: Browse assets or add another asset to the material. |
| 4 | Properties panel: Display and manage detailed properties of the selected asset. The asset name and description are on the Information panel. |
| 5 | Material Editor toolbar: Create a material, duplicate the current material, and display or close the Asset Browser. |
When you click an asset name, the Properties panel shows the properties for that asset. Because the appearance asset is selected in the figure, the lower panel shows the detailed appearance properties of the aluminum material.
Deleting Assets
Material assets in a document are handled differently than assets in a library. An asset in a document is deleted if it is no longer associated with a material in that document. But an asset in a library can remain in place even if it is not associated with a material. The system is unaware of any association between assets and materials. Library assets should be managed carefully, both to eliminate unnecessary assets, and to avoid deleting assets in active use.
Duplicating Assets
While editing a material, you can duplicate an asset as the basis for creating a new one. For example, if you have a Glass material with a Dark Bronze appearance, you can duplicate the Dark Bronze asset to change the color to Green and rename the new asset to Green. However, you cannot duplicate an asset unless it is used by at least two materials in the current document. If necessary, you can duplicate a material to create two instances of a shared asset, and then duplicate one instance of that asset.