download video: 06.00-wind.mp4
Wind Rose Diagram from Weather Data
The wind rose is a versatile tool for visualizing wind patterns for your specific site. You can limit the analysis period by year, season, month, week, or day, allowing you a wide range of controls depending on what is important to your project
Begin by ensuring that you are signed in to your Autodesk account in the upper right-hand area of the Vasari app frame. This enables Vasari to access wind data from a weather file associated with your site.
The next step would be to ensure that you have your site location set correctly and a weather station assigned. You should pick the weather station that is closest to your site. Next, click Analyze tab
Climate Analysis panel
Ecotect Wind Rose.
The wind rose interface allows you to choose between a number of Google maps underlays. The default mode is set to display yearly average which will allow you to glean the general wind pattern of your site.
To control the analysis period, click the Advanced time/date selection. On the bottom of the dialog, is the interface for narrowing your wind visualization period.
Once you have a desired wind rose diagram selected, you can import as a family into the project by selecting
(Send wind rose to BIM project).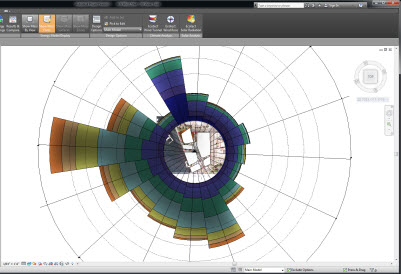 Velocity. Wind speed is indicated by the color of the region on the diagram. The units can be toggled at the bottom of the dialog box between Knots, Meters/sec and Km/hr. Unfortunately, there are no settings for imperial units.
Frequency. Each of the rings in the diagram corresponds to a scaled percentage of the analysis time which the wind is blowing at a certain velocity from that specific direction. The frequency reading is along the south axis of the diagram and will scale automatically.
Direction. Wind direction can be understood as the direction from which wind is blowing. The diagram displays direction according to cardinal directions.
Setting the 2D and 3D Grid Boundaries
The size and shape of the bounding volume and its relationship with the geometric model can have a significant impact on the calculated air flow. The air flow calculation knows nothing beyond the boundaries of that volume; it is an absolute limit.
If you create a grid that is too close to the side of a model, the air will be artificially squeezed up against that volume boundary. In reality, that air would have been able to expand much further into the space beyond, but instead it is forced through a small gap that will likely result in a localized area of high pressure and artificially increased air speed.
This means that a 2D air flow analysis considers only those parts of the geometry that it actually intersects, and uses only air flow paths that exist within that 2D plane. If any geometry lies slightly outside that plane, both it and its potential turbulence effects are effectively ignored.
When the analysis grid extents are properly set up, you can see the difference in results in that it alleviates areas of high pressure which occur between the model masses and the grid boundary.