When you enable worksharing, several default worksets are created (two default user-created worksets, and worksets for the families that are loaded in the project, project standards, and project views). For more information, see Default Worksets.
Community Video: Multi-Discipline Coordination with Worksets
The following image shows the Worksets dialog, with the two default user-created worksets, Shared Levels and Grids and Workset1.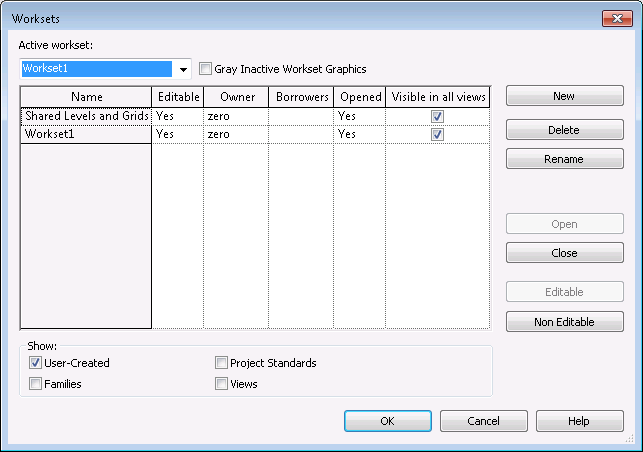 The Worksets dialog provides the following information:
Worksets and Element Borrowing
Generally, it is recommended that you work in your local copy of the central model and not make worksets editable. When you edit an element that is not being edited by another team member, you automatically become the borrower of the element and can make the changes you need. It is recommended that you synchronize with central frequently as you work. Synchronizing relinquishes borrowed elements by default, allowing other team members to edit them.
Use worksets when you want to reserve parts of a project so that only the assigned user can edit the elements in that workset. Also consider these benefits for creating worksets:
Convenience for editing

Dividing a project into worksets makes it easier to make whole sections of a project editable at once.

Visibility control

You can control overall visibility in a project when you link Revit models into other Revit projects. For example, it is often convenient to turn off visibility of the Shared Levels and Grids workset when linking Revit models so that you do not have to turn off levels and grids individually in each view.

You can assign a display mode to worksets so that you can visually identify and differentiate them in your model. See Visually Distinguishing Model Worksets .