Revit Structure
TEXT
text
An analytical link is an element connecting 2 separate analytical nodes. Creating analytical links simplifies and accelerates structural analysis of the model affecting the results to the acceptable extent. Analytical links may be used in certain situations such as connecting offset columns or beams, or modeling rigid floor diaphragms.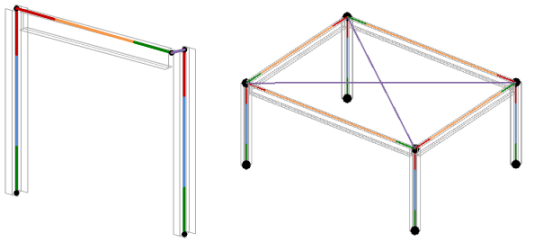 Analytical Links (An Offset Column and A Rigid Floor Diaphragm)
Click Analyze tab Analytical Model Tools panel Analytical Adjust.
Edit Analytical Model panel Analytical Link.
Click 2 nodes to be connected by the analytical link.

Press

Esc

or click Modify to exit the tool.
Click (Finish Edit Mode) to save changes.
Analytical link properties except for marks are defined as system family properties. You can define rigidity of analytical links in the Type Properties dialog by setting translation and rotation conditions (as fixed or released).