Materials in Autodesk products represent actual materials such as concrete, wood, and glass. These materials can be applied to parts of a design to give the objects a realistic appearance and behavior. In some design contexts, the appearance of an object is most important, so the materials have detailed appearance properties such as reflectivity and surface texture. In other contexts, the physical properties of a material such as yield strength and thermal conductivity are more important, as the materials must support engineering analysis.
Video: Managing Materials in Revit
Properties of a Material
The figure shows some of the physical and appearance properties for a Bronze, Soft Tin material, as displayed in the Material Editor. The physical properties are grouped in one asset of the material, and the appearance properties in another. Each asset can be changed independently when you edit a material. For example, if you want the bronze material to have a red color, you can replace the appearance asset with Aluminum, Anodized Red, an asset with different appearance properties.
Aluminum, Anodized Red Appearance Asset
If you replace the physical asset for the Bronze, Soft Tin material with a physical asset that represents another metal, such as aluminum or copper, the changes in density and other properties result in a material with very different behavior.
Assets are grouped into four types, known as aspects:
Appearance
Physical
Thermal (Revit only)
Graphic (Revit only)
Autodesk Revit is the only product that uses all of these aspects. Inventor uses physical and appearance aspects. AutoCAD uses only appearance. A material can have multiple assets, but not more than one of the same aspect. For example, it cannot have two physical assets.
Materials and their properties are reviewed and managed using three related dialog boxes. The labels and controls on these dialog boxes differ slightly from one Autodesk product to another, but the figures show the main details.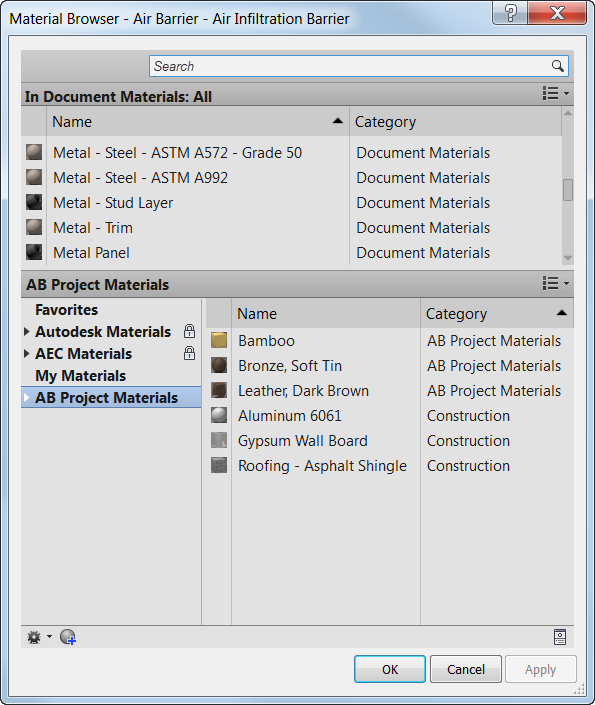 Material Browser
The Material Browser is used to find and manage materials. Common operations include
Adding materials to the current document
Placing materials in a collection, known as a library, for ease of access
Selecting a material for edit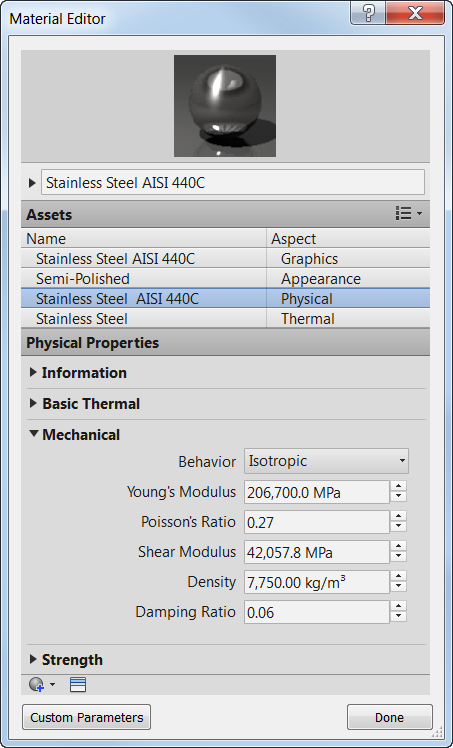 Material Editor
The Material Editor is used to create a material, and to review and edit the assets and properties of a material.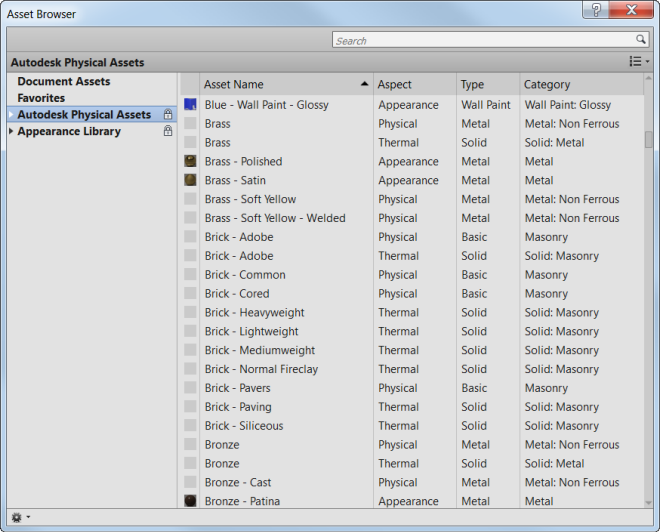 Asset Browser
The Asset Browser is used to manage and review available assets, often for the purpose of finding an asset to add to a material or to replace an existing asset of a material.